Evaluation from wccftech:Vividstorm 100-inch Motorized UST ALR Screen Review
Today we are going to be reviewing an ultra-short throw ambient light rejecting motorized screen (yikes that's a mouthful) from Vividstorm. As our readers probably know quite well, UST projectors like the LG 4K project the light at a very steep angle - in which conventional ALR screens will not work. To solve this problem, companies like Vividstorm have developed an ALR concept that can work with UST - albeit at a very hefty premium.
Introduction
What we have here today is the VIVIDSTORM Ultra Short Throw, Motorized, Tensioned, Floor Rising 100-inch screen. This product was so big that it did not fit in our photo studio and we actually had to improvise a bit for most of the product shots. The packaging that this screen comes in would be well-described as an absolute tank. It featured multiple layers of wood supports, hard cardboard, and tons of plastic buffers. It took us nearly 30 minutes just to extract the screen from the packaging. So for those worried about the screen getting damaged during shipping, I can't imagine anything other than someone taking a chainsaw to the box, capable of damaging it.
So let's go over a little theory. As we know, Ultra Short Throw projectors project laser light at an angle upwards. Traditional ambient light rejecting material only accepts light that is coming directly towards the center and disregards all other angles. This means that if you try to use an ALR fabric with UST, instead of light amplification, you will basically get light reduction because the pits will try their best to block the light in the fabric. This is where UST ALR fabrics come in. These are incredibly hard to manufacture and ship at a significant premium. Unlike standard ALR screens, these only accept light that is coming from a downward angle and reject everything else. This is great for UST projectors because combined with their typical extremely bright lumen output, a UST ALR screen would make it perfect for ambient light viewing.
Testing black levels in ambient light and viewing angles
If you see the comparison shots above, we have tried to compare a dark grey matte projection surface with VIVIDSTORM's UST ALR fabric. Both pictures were taken in the same harsh ambient light conditions (close to 95 nits) and both are roughly what the human eye sees. The blacks in the VIVIDSTORM part are incredibly deep considering this is full-on ambient light and very comparable to televisions. The screen definitely makes full ambient light viewing on a UST projector a very real possibility.
Another major problem that ALR or high gain screens typically have is that of distorted colors in different angles and "speckle" when dealing with laser projectors. The fabric of VIVIDSTORM's ALR UST screen impressed us in that regard quite a lot. There was zero speckle of any kind and the viewing angles were crisp and clear with no visible color distortion at even 45-degree angles. This is of course, due to the fact that this screen accepts light only from the ground.
Luminance measurements
We also wanted to get some quantitative insights on how much of a difference the screen makes in terms of gain so we setup a lux meter a few cms above the projection surface and took the following measurements. When dealing with a matte grey 0.8 gain projection surface (which is what people would typically use to preserve black levels in ambient lighting conditions), we measured the LG 4K UST projector capable of producing 62 nits on a 120 inch display. When we rolled up the VIVIDSTORM however, the image brightness immediately increased to 101 nits - which is spectacular image brightness for this kind of setup.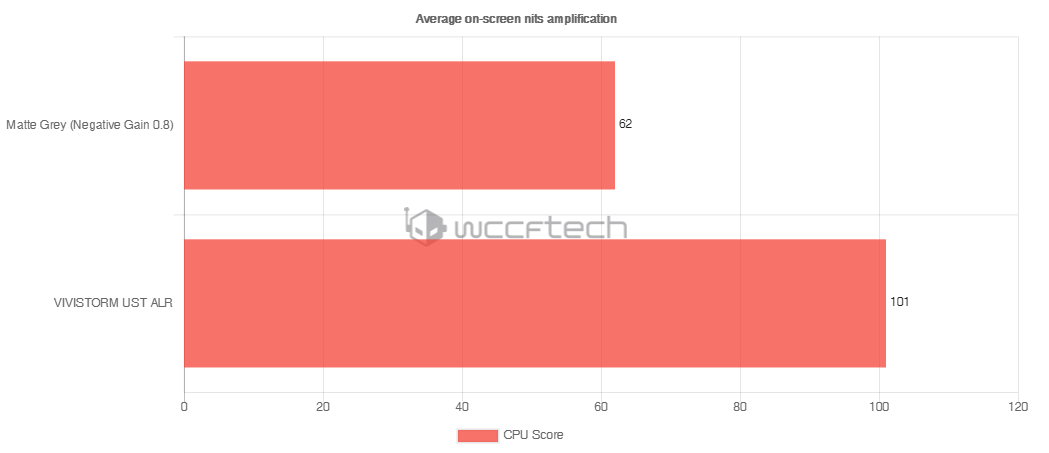 You can also see the difference in color brightness in ambient lighting conditions yourself below: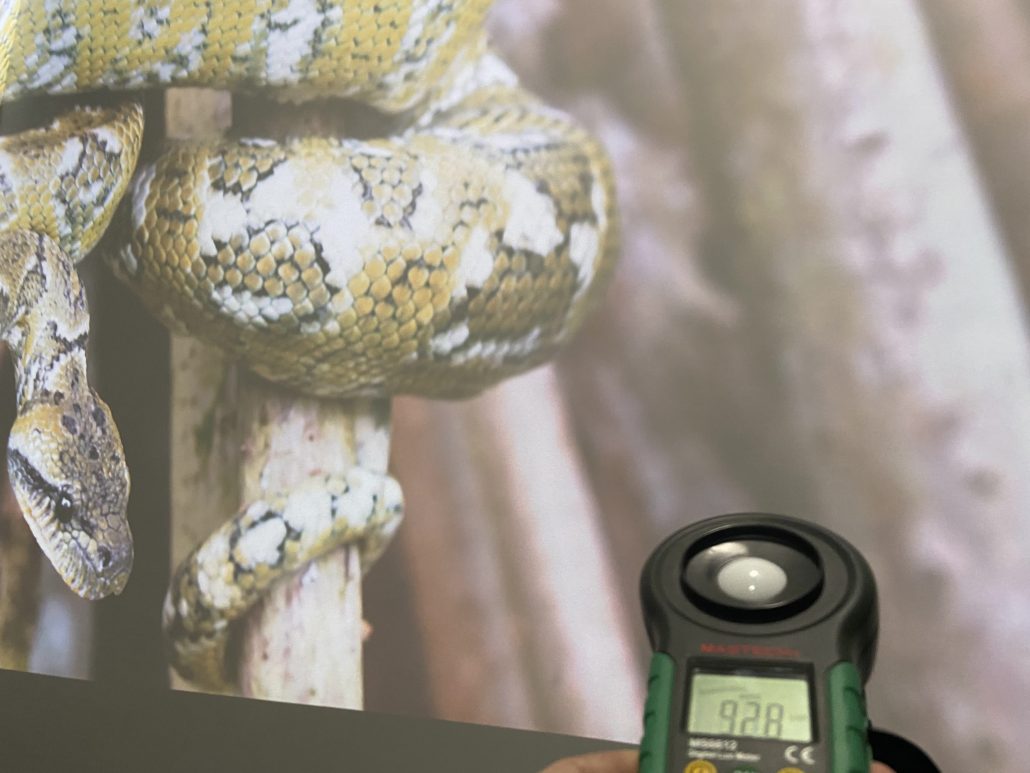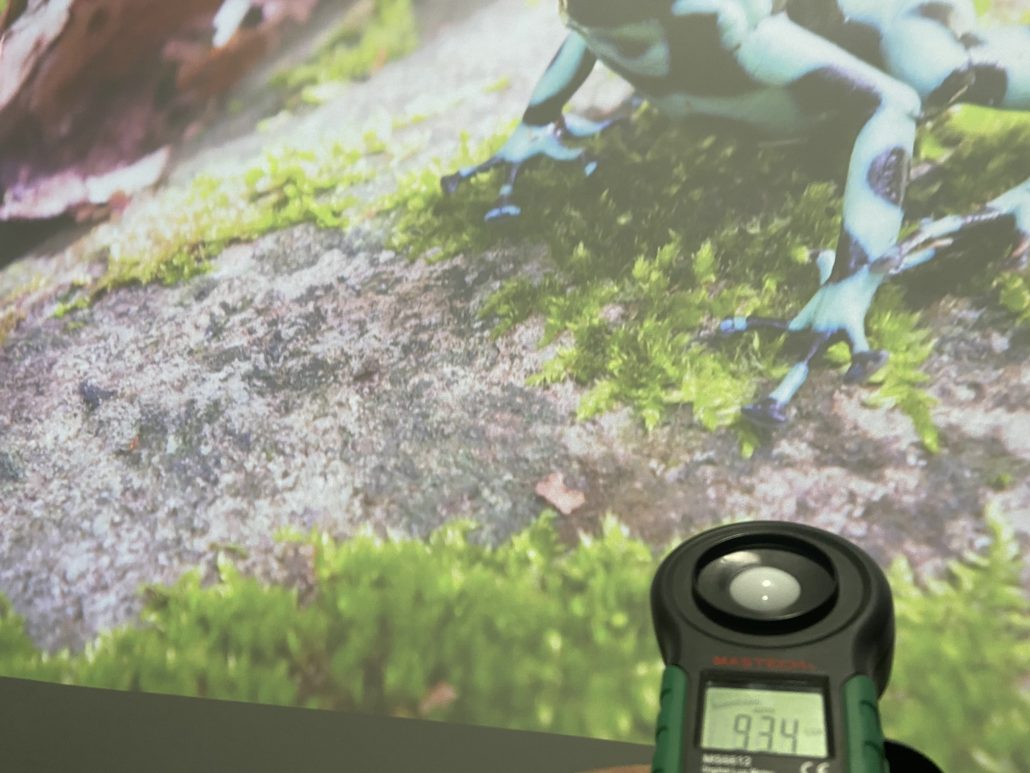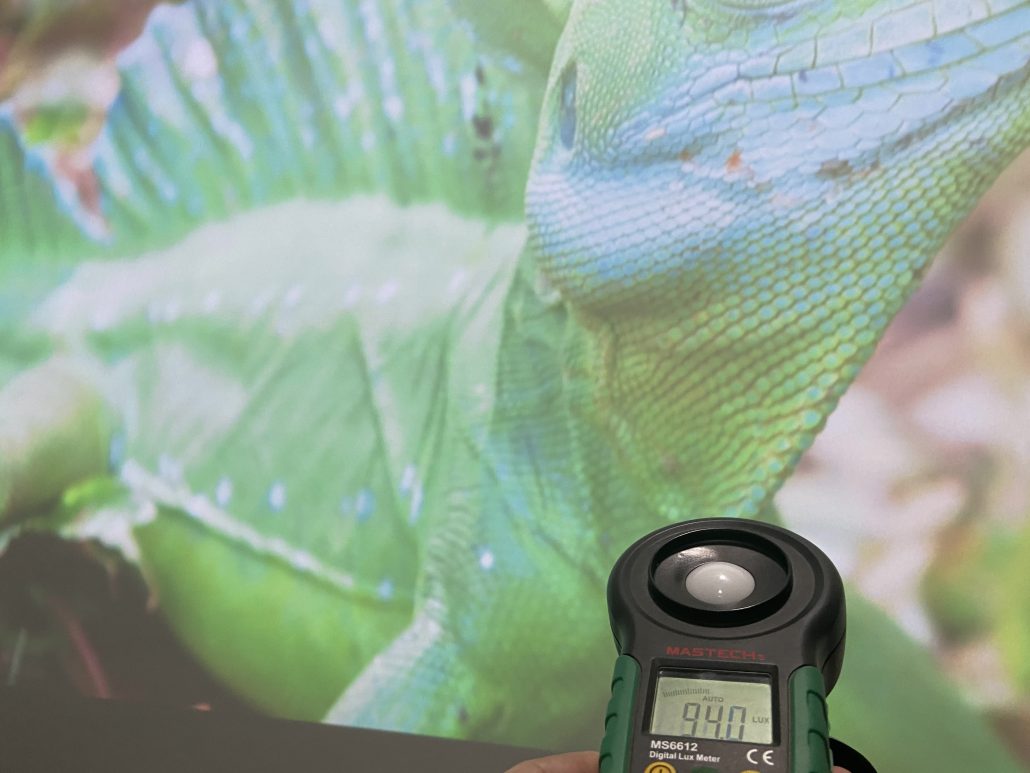 The same projector when used with VIVIDSTORM's UST ALR screen shines: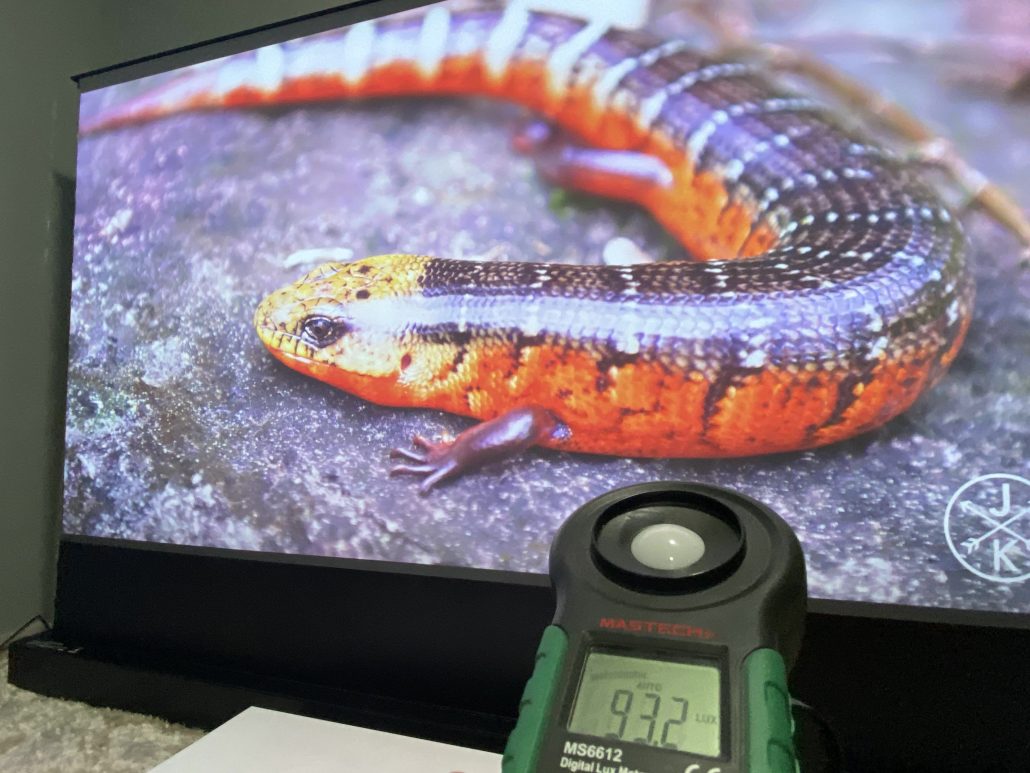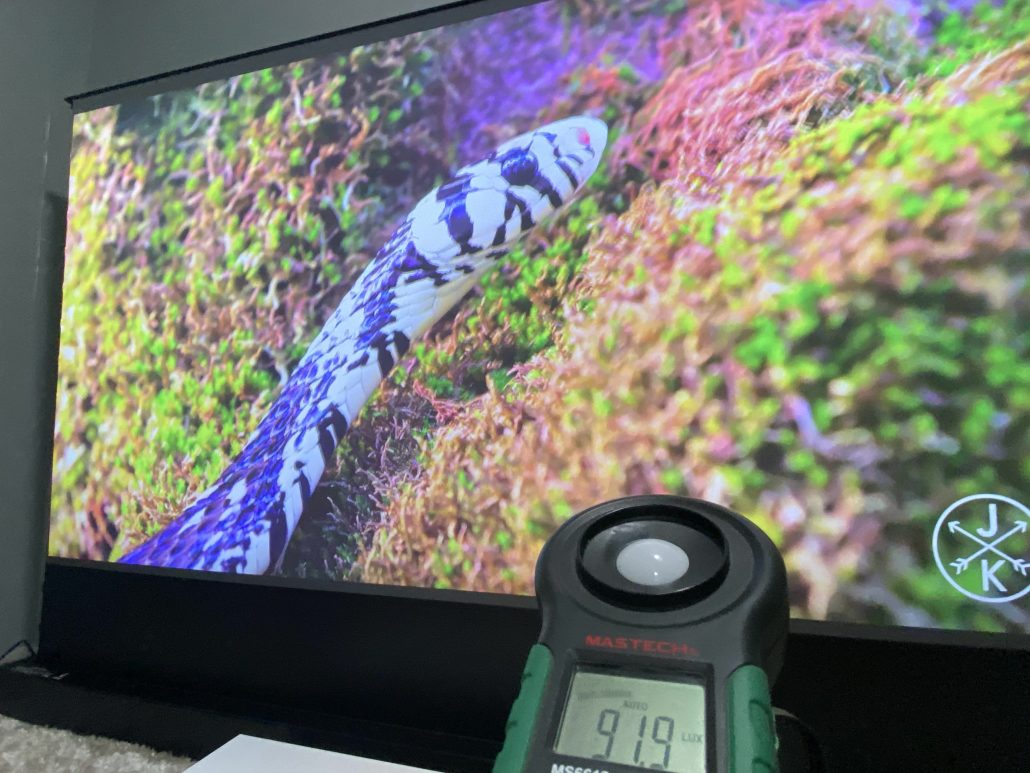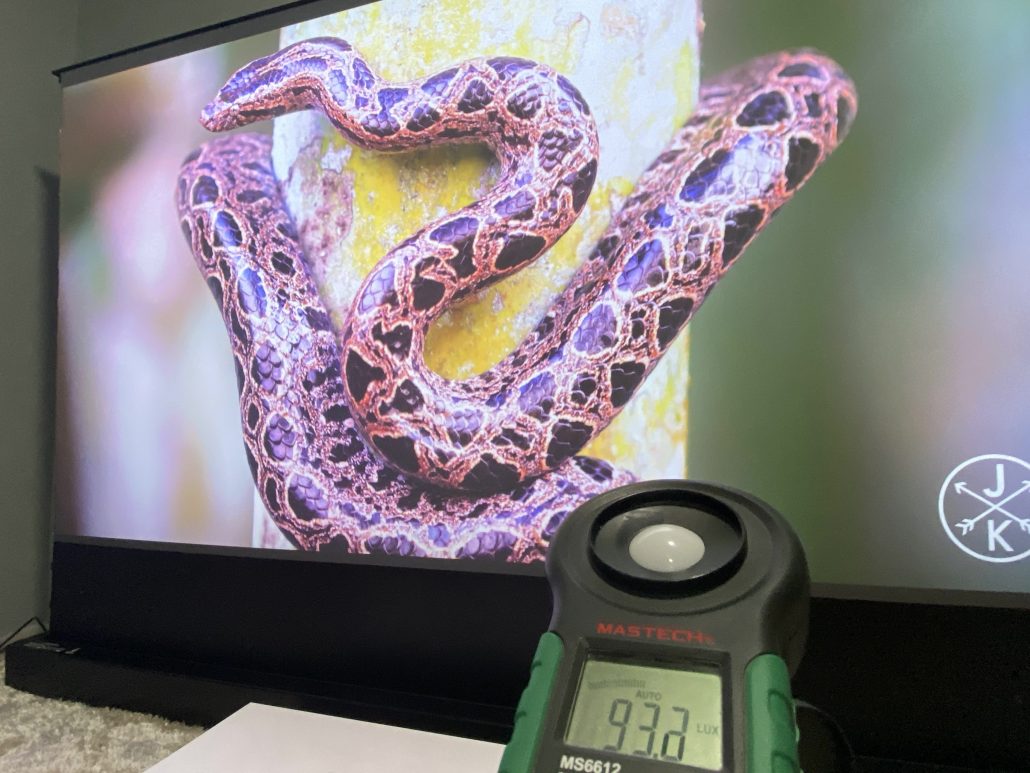 Build quality and included accessories
The build quality of the VIVIDSTORM screen is extremely impressive. The company had the foresight to include not one but two separate remote controls for the motorized screen. One works via infrared (and required line of sight) and the other works through RF (which is what we used mostly). The screen itself has tensioned edges and is mostly creaseless.
https://www.youtube.com/watch?v=Hxs7hVR-I7k
Accessories include a brush to clean the fabric and some plastic rods to make adjustments. There is a slight bend to the top of the screen but according to the manual, that is completely normal and a quirk of the unique tensioned design. The screen is very heavy and has two robotic arms on the back which raise the frame from the floor. It takes roughly 35 seconds for the screen to raise or drop completely.
Conclusion
I know what you are thinking. That is all well and great, usman, but it is still a $2000 screen. Well, what if I told you that it is actually quite cheap. Surprised? let me explain. A UST ALR screen allows you to use a UST projector like you would a TV - in a lit room with friends sitting around you. A 100 inch TV costs upwards of $9000 while a UST projector + this screen would cost between $5000 to $7000 depending on what you buy.
Considering how it looks super cool (yes that is a quantifiable metric) and would fit in flush with just about any decor and would be out of sight until needed, it is actually pretty great value. It is a conversation starter and a must-have if you plan to use a UST projector in a lit room. While you can always go with a fixed tensioned screen, that requires a lot of expert installation and is a permanent fixture while this is plug and play and just needs to be put in any place to setup.