🎞 #DangbeiMarsPro Review: Best Home Smart Projector with VIVIDSTORM Long throw ALR screen❤️‍🔥💯
The Dangbei Mars Pro comes up frequently in smart home projector search results as many users have given feedback that this projector offers superior performance for the same price point. It's a projector with native 4K resolution, 25,000 hours of lamp life and the new HDMI 2.1 standard including e-ARC. So, how does the Dangbei Mars Pro home smart projector review stack up? Today, we're sharing this 4K laser projector from unboxing to use to help you make the best choice of home projector.


How does Dangbei Mars Pro Projector Review?​
In brief, what features does the Dangbei Mars Pro home projector have? HDR10+, HLG, motion compensation, Android 9, autofocus, keystone correction, including a deviation of objects. For those who like to play video games, this projector has a latency of only 20 milliseconds. And, the Dangbei Mars Pro projector has an incredible

 

3200 ANSI lumens

 of brightness and 

3D

. Perhaps the best home projector we can find in this box, let's kick off today's review.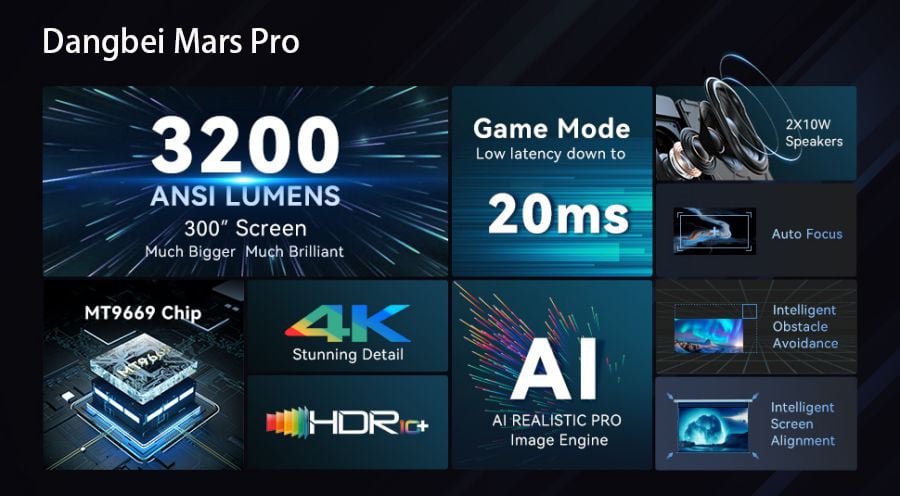 Dangbei Mars Pro Unboxing and Appearance Review​
The Dangbei Mars Pro 4K laser projector promises to deliver better quality than the competition. Dangbei is only nine years old and she already occupies third place on Marketplace in China. The Dangbei Marketplace app alone reaches and answers to about 200 million users. We are now going to unbox it and test it on the screen with the setup menu, the operating system, and also with the PlayStation 5 and X Box Series X.
Dangbei Mars Pro Projector Unboxing​
Opening the box we find here the manual, a cleaning cloth, the base fixing knob, the remote control, and the charger. From the looks of it, this Dangbei projector is really good. It's no wonder that Dangbei won the 2021 Design Award. The Dangbay Mars Pro is designed from its remote control, which is simple and beautiful. We also have a power supply that contains what we consider to be the details of a quality product.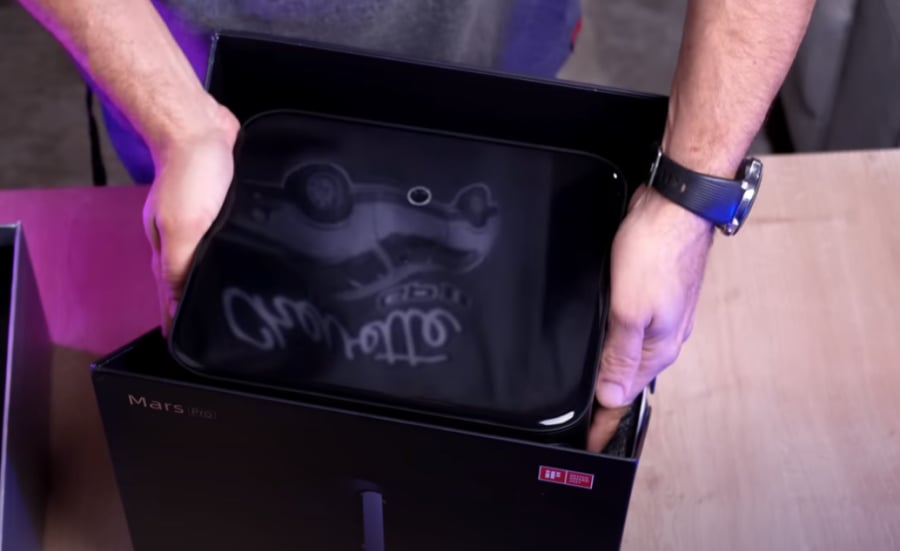 Opening the box we find a projector that looks like a sophisticated black piano, very beautiful and well-packaged. On the front, there is plastic to protect the lens of the product, which is also protected by a protective film. As well as the top of the product is very smooth and piano-like in texture, it's protected by a protective film.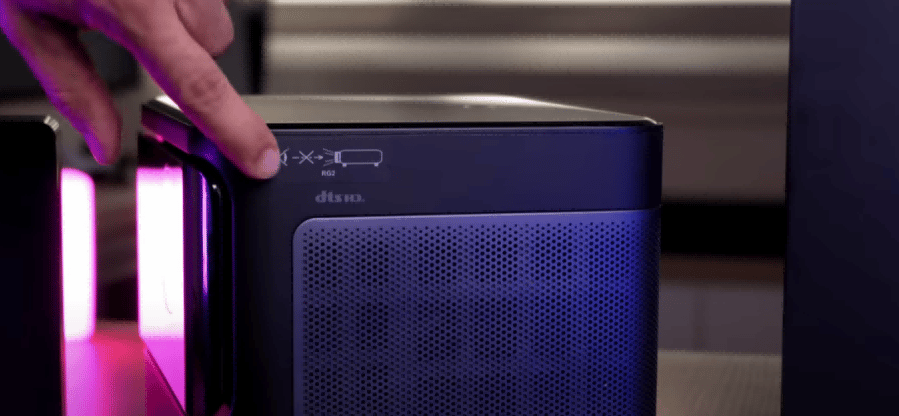 On the side of the Dangbei projector are cooling holes for cold air to enter. On both sides, there are DTS and Dolby Audio icons, so the audio effect should not disappoint us.
Back of Dangebei Mars Pro: Ports for Connectivity​
The back of the Dangebei Mars Pro has a power cable entry, a network cable entry, an optical input, two ports, HDMI, one of which is 2.1, and an eARC (check 
HDMI ARC vs. eARC
) plus two USB ports, and a headphone output. So, this projector can be used with external devices such as phones, computers, and game consoles to extend its smart attributes.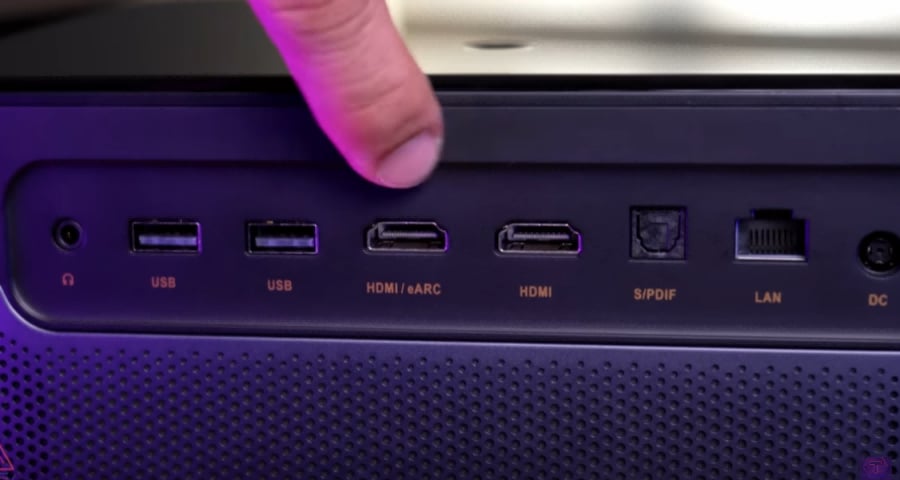 Top of Dangbei Mars Pro: Touch Sensitive Buttons​
At the top, this home smart projector has touch-sensitive buttons, namely the on and off buttons. This is a rare and unusual button in a projector. It gives the projector a modern design feel. Here, the infrared sensor is located in the center. Just a touch of the button turns the projector on, which gives the projector thing a technological feel.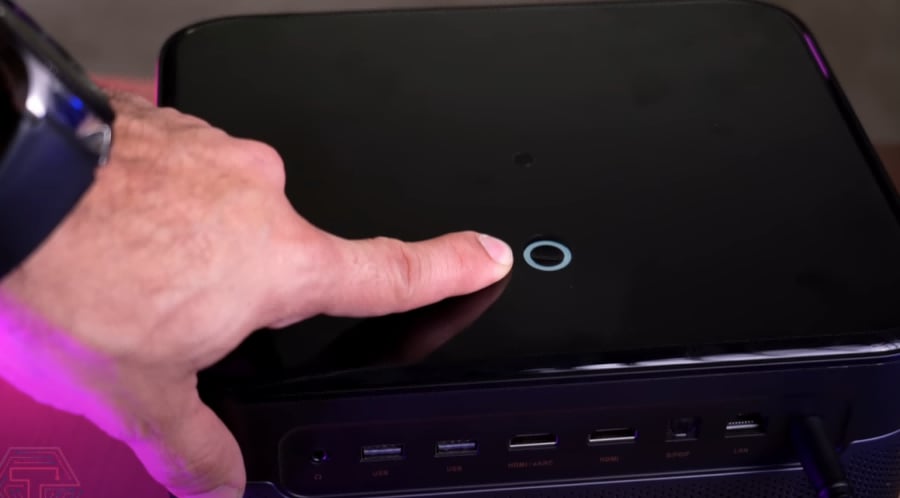 Bottom of Dangebei Mars Pro: Non-Slip Feet​
On the bottom of the projector, we can use tripod screws. But I don't recommend using this type of screw because it is a heavy projector. Even though it's not very big, it's very heavy. The special thing is that this projector has four small feet on the four corners to prevent the projector from slipping. Or you can withdraw it and use a more suitable support, or mount it on the ceiling.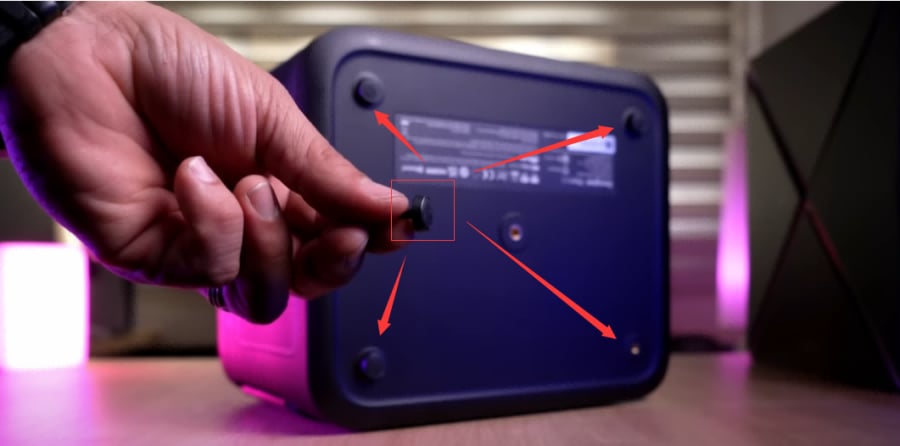 Dangbei Mars Pro Projector System Review​
There is no doubt that the Dangbei Mars Pro projector is arguably one of the most impressive-looking projectors out there. Now, you may be more concerned about how this projector actually works.
Now, if there's one thing this projector has to be very good and very positive it's the glow it gives off. And we're here around two in the afternoon and the sun is beating on my blinds and I will show you the brightness of the projector behave yourself even in daylight knocking there on my blinds.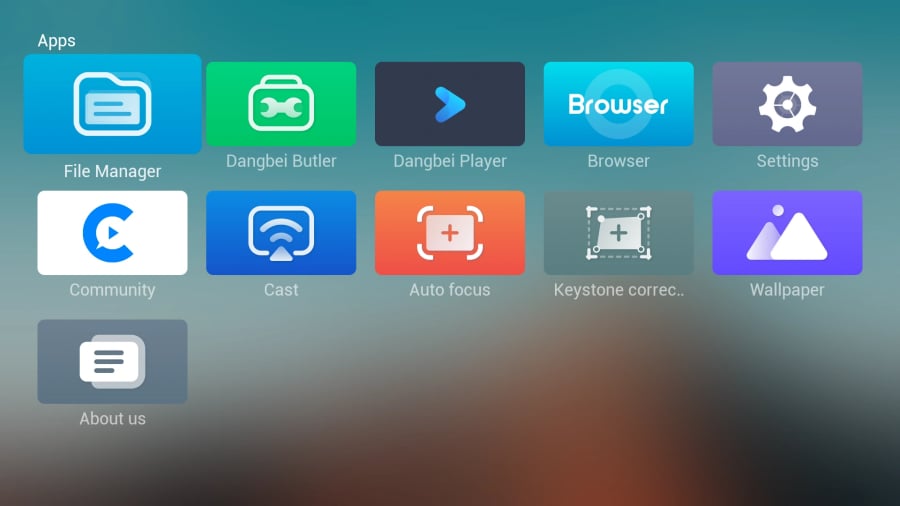 The projector uses an 
Emotn OS
 system based on modified Android 9. It has 
4GB
 of RAM and 
128GB
 ROM. Plenty of space to store your games and applications, it uses the 
MT 9669 chip
.
The operating system is clean and quite fluid and intuitive, consumes very little storage, and has plenty of flexibility for modifications. You can even modify the plan image home page background for one of your choices. Applications can also be reorganized in a way that suits your preferences.
The jump projector speakers can be connected to a device external via 
Bluetooth 5.0
. There are two speakers ten watts of power with technology 
Dolby Digital Plus
 and 
DTS Studio
 sound, and offer audio quality very decent, with volumes very high, very clear, and without any distortion.
Dangbei Mars Pro Projector Smart Home Review​
Home Desk of Dangbei Mars Pro​
In the top left corner of the projector's home page we have the options for HDMI 1 and 2, which are shortcuts to clear the cache and weather information and time.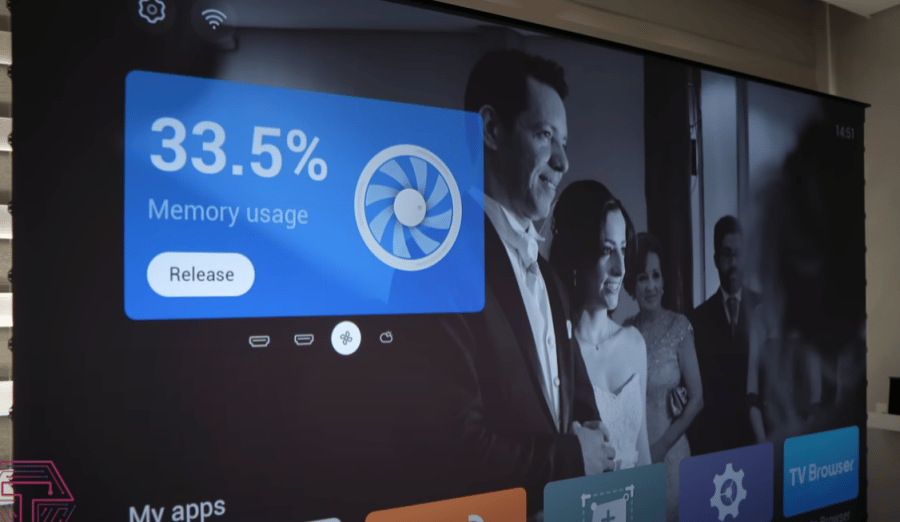 Further up, there are Settings Wi-Fi and Settings. In there we can find Wi-Fi connectivity, focus, where to select autofocus and the manual. After the binding and the actual autofocus will work throughout the use of the product to ensure that it is always in focus.
Keystone Correction, Obstacle Avoidance, Auto Focus​
Further down, here are the keystone correction features, including auto-correction, manual correction and scaling, which can be very helpful in some cases for image adjustment. When testing the Dangbei Mars Pro projector's smart obstacle avoidance feature, I adjusted the screen and set up obstacles to test its ability to avoid real obstacles. There is no doubt that it worked on the first try, which was cool. After testing like this, like the Keystone, the obstacle avoidance and autofocus features are the best I've tested.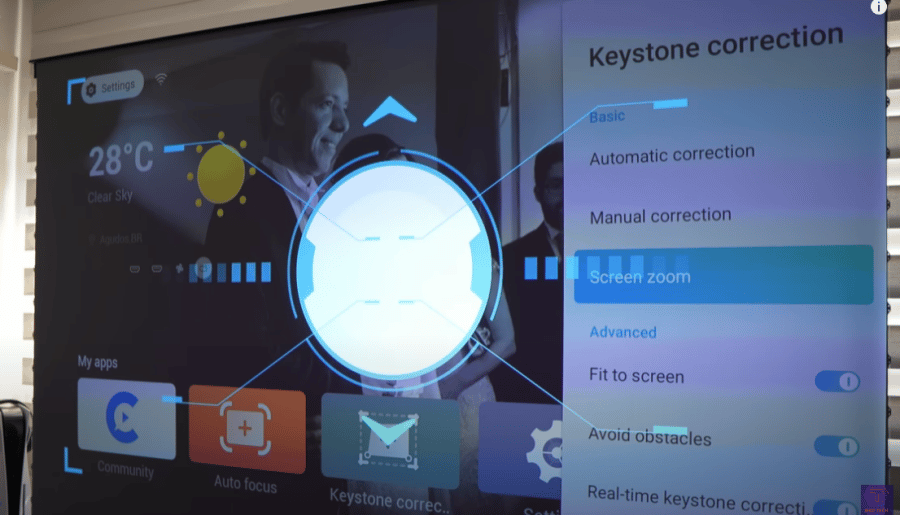 Amazing Feature: Auto Dust-Cleaning​
In the projector menu, here are some other things I've never seen before. For example, there are installation options to choose the type of installation as well as an automatic dust removal feature.
Once the dust removal feature of the Dangbei projector is turned on, the projector goes into a very powerful ventilation mode, so much so that it can expel the dust from the filter, which is pretty amazing. With this feature, the projector can be cleaned regularly, which can effectively extend the life of the projector and free up your hands.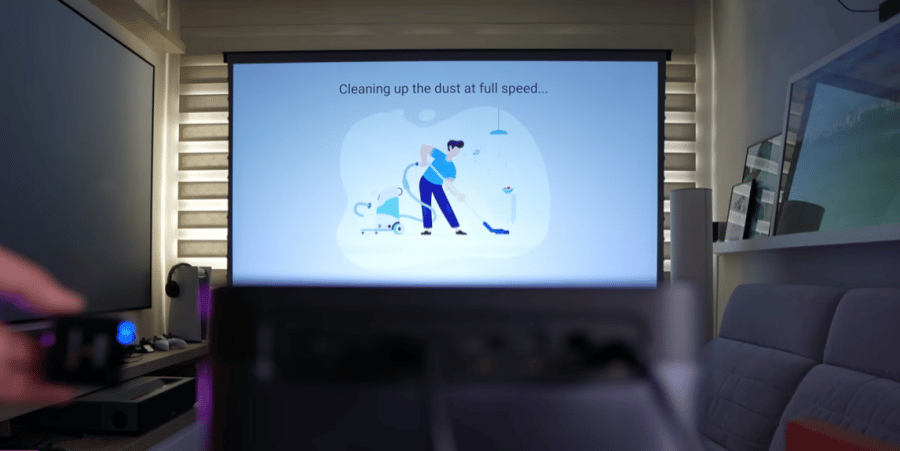 Picture Settings: AI Picture, MEMC, 3D​
Next, we see the picture settings for the Dangbei projector. There are some video mode options here, including AI Picture. it adjusts the image to the environment using artificial intelligence and a sensor on top of the projector. In MEMC, the image is smoothed out very well. Further down, you can choose to turn on the 3D mode and wear active glasses so you can enjoy the cinema-like 3D movie effect at home.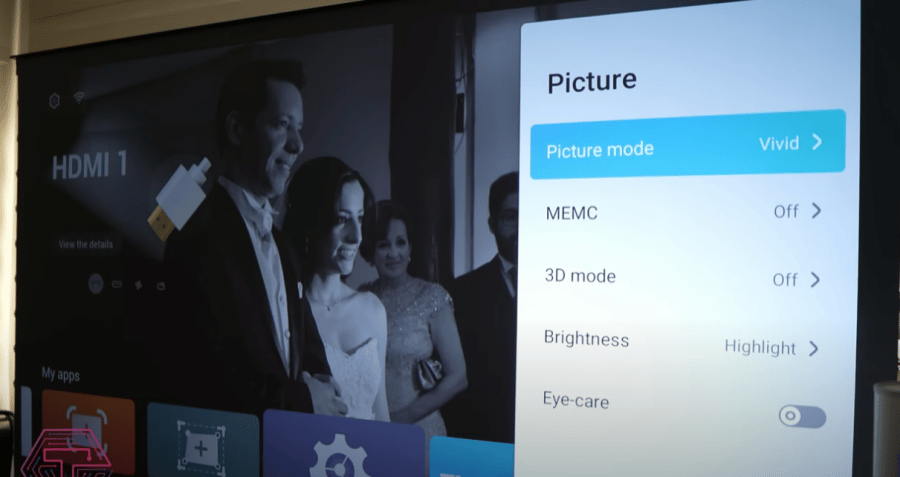 Game Mode, HDMI2.1​
In terms of input, the Dangbei Mars Pro projector has a game mode, which will greatly reduce the input latency. Also, there is a disabled HDMI version here. To enable it, simply connect the HDMI port of your input device and press the button on the side of the controller to access the settings, where it will be enabled. So you can choose among the options, including selecting 
HDMI 2.1
. Here you need to press this small button hidden on the side of the remote, where you can make a series of settings.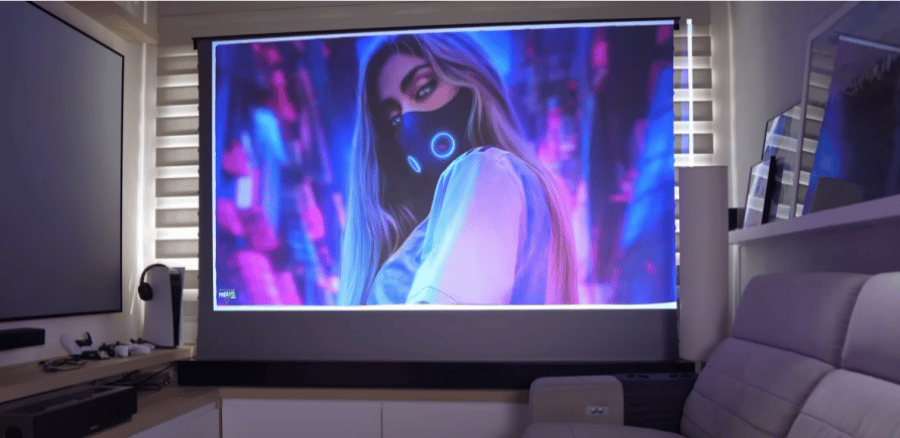 Xbox Series X and PS Game Test​
Is the Dangbei Mars pro projector suitable for use with the Xbox Series X? I turned on the Xbox Series X and unfortunately, we do not have a 120 Hz compatible 4K projector. However, if we keep it at 1080p, the 120 Hz rate will be enabled.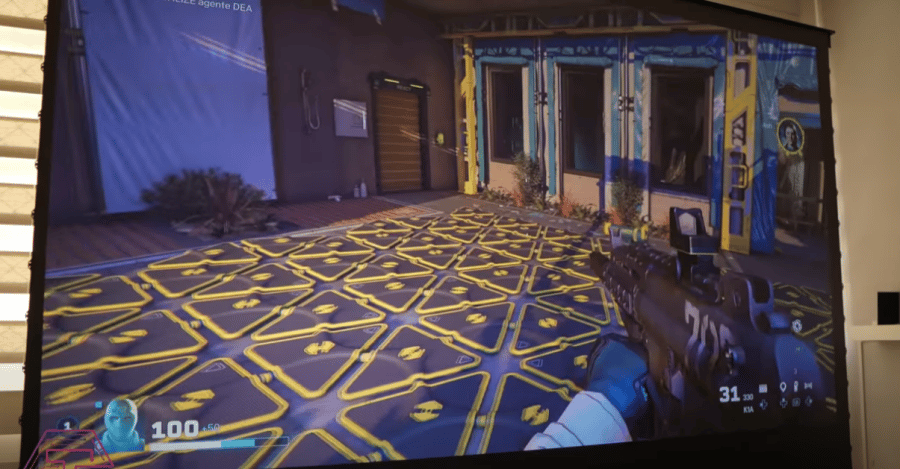 In addition, we tested the PlayStation 5 on Dangbei Mars Pro. It is 2160p resolution with automatic 4K VRR for incompatible games. Here, active, auto ALLM, and HDR are always on. It has a strong color output in Auto Gamma RGB, which is also automatic and can output at 120hz. In the game, the picture is very smooth. It really is a great projector for those who want to play.
Summary: Best Home Smart Projector Dangbei Mars Pro​
After unboxing and testing, Dangbei Mars pro can be considered the best smart home projector. It has a unique and aesthetically pleasing appearance, rich smart projection features, and a very clear picture. It is an amazing projector for those who want to watch good movies and for those who want to watch the World Cup.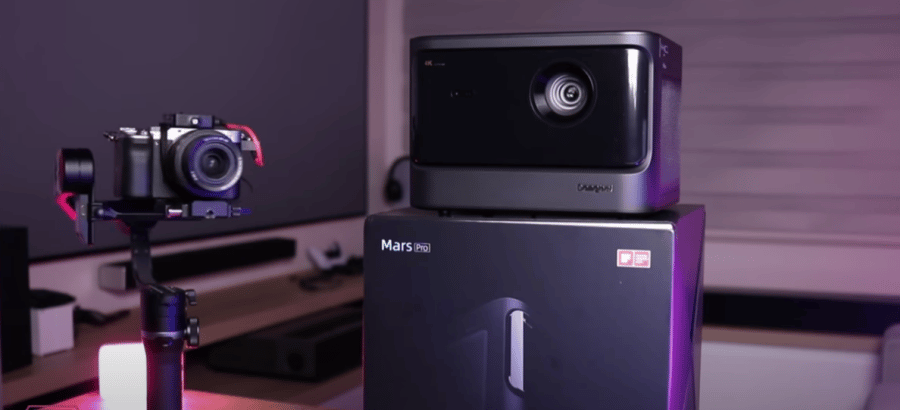 I think the price and the great value for money of everything it offers make the Dangbei Mars pro a truly hugely successful projector. If you have any questions, please leave a like and comment. If you want to purchase the product, go to the official website and remember to make sure you choose shipping insurance and duty insurance.
Orignal link: 
https://www.tvsbook.com/threads/dangbei-mars-pro-review-best-home-smart-projector.7497/