UST Projector vs. OLED: Why your next big upgrade could be a Laser TV
The time has come to consider an ultra-short-throw projector.
We're here to talk about forward-looking TV tech, but let me begin with a disclaimer; I'm a self-confessed plasma TV romantic. Having purchased my first Pioneer Kuro, a PDP-505XDE, from Digital Direct back in 2005, I became a staunch advocate of that wonderful plasma image quality so few other televisions could match.
In 2008, I managed to grab an upgrade in the form of a Pioneer Kuro PDP-LX5090, from TLC Broadcast, at a cost of £1,795. A lot of money for a TV back then, but in hindsight it was well spent. Digital Direct and TLC Broadcast both bit the dust, Pioneer completely shuttered its plasma TV business, yet the trusty Kuro continued to serve us well for well over a decade of regular viewing. It owes us nothing.
Wait, you work in tech and use a 14-year-old TV? Well, yes, but not through a lack of wanting to upgrade. You see, LCDs just don't cut it in the black-level department – we've a reasonably high-end 49in Panasonic in the bedroom and it literally pales in comparison to the much older Kuro – and OLEDs aren't without fault, either.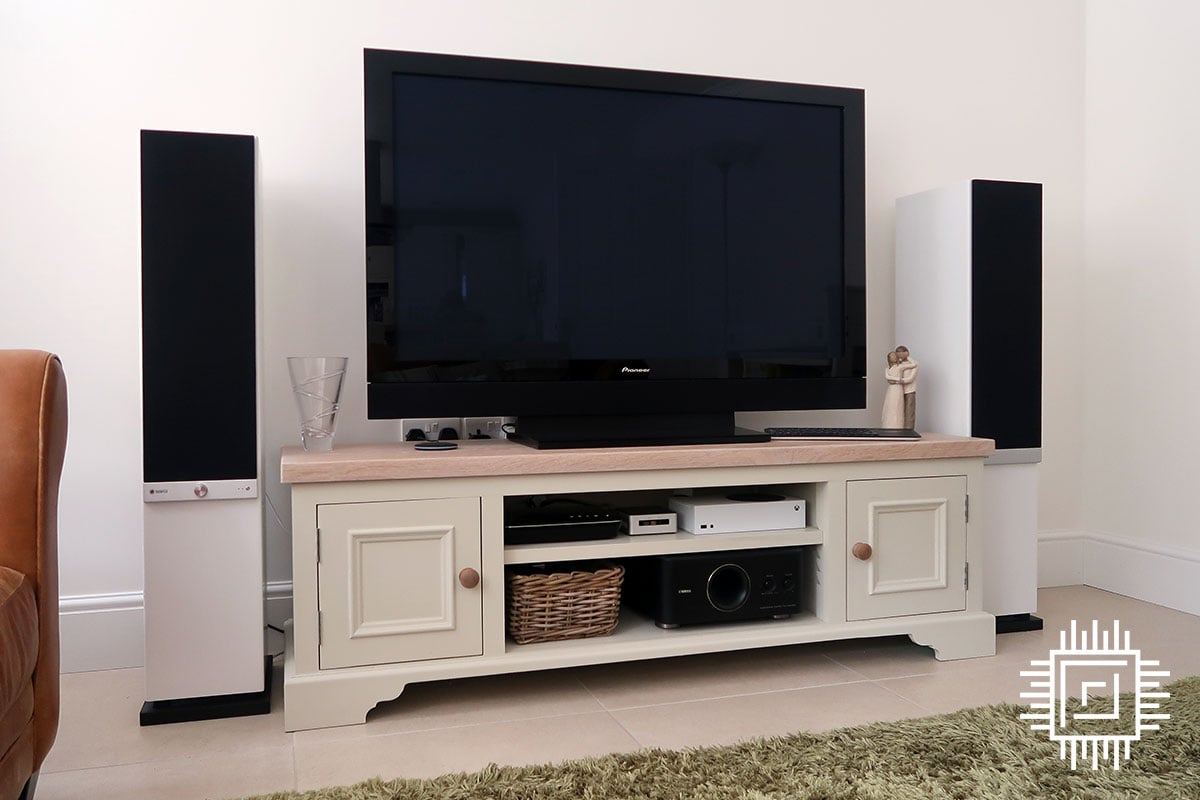 I'll hold my hands up and concede OLEDs have the beating of plasma in many regards. Blacks are unsurpassed, brightness is superior and screen size has increased, let alone support for newer standards such as 4K and HDR.
Trouble is, I've experienced a few excellent OLED TVs in recent years, and though they are fantastic, I've never quite been convinced there's enough of an advantage to warrant a costly upgrade over the Kuro. Moving to 65in doesn't seem a big enough leap, and 77in+ OLEDs are still frighteningly expensive. Oh, and controversial but true; the Kuro still beats OLED for motion handling and can look as good, if not better, in certain instances.
Costly-to-produce plasma TVs really were ahead of their time, but there comes a moment when you need to move on, and after years of searching, I've finally found an upgrade path proving hard to resist; ultra-short-throw projectors (USTs).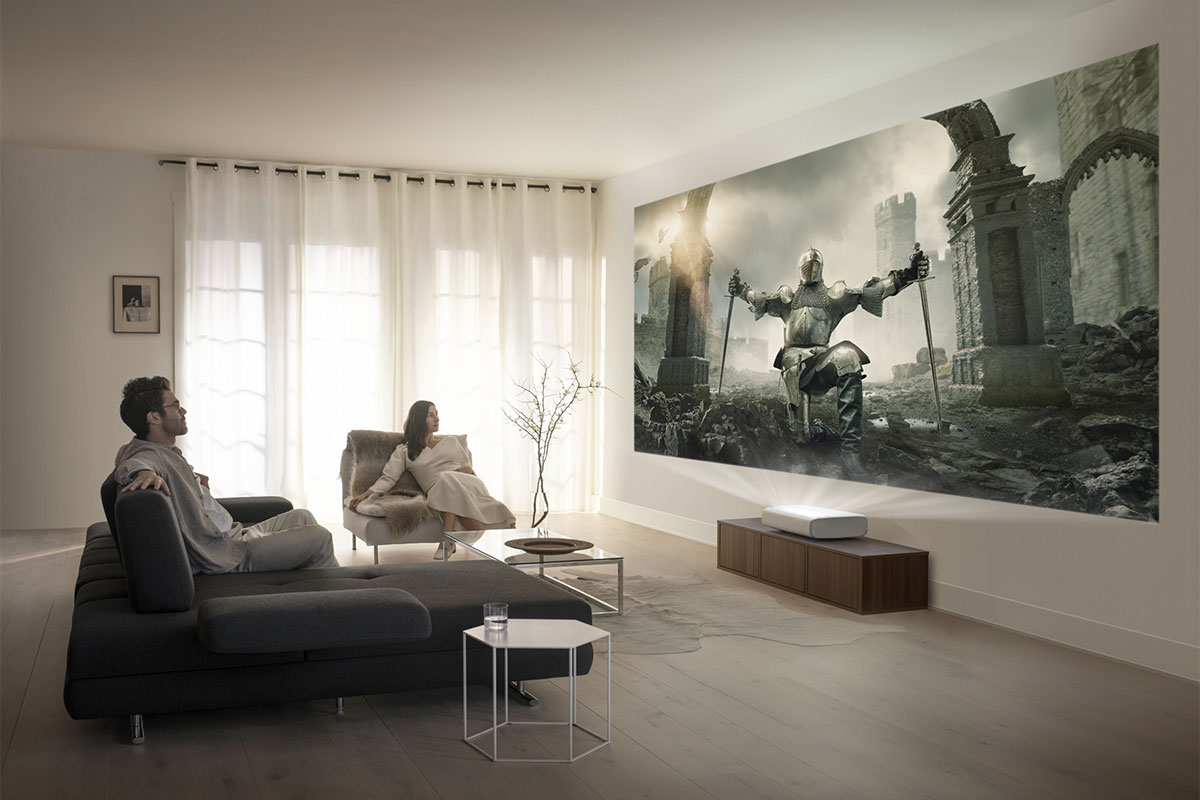 UST technology has come on leaps and bounds in recent years. The ability to beam vast images from just a few inches from the wall holds huge potential, and irrespective of what you might have heard, size absolutely does matter. According to UK-based research group Omdia, global shipments of TVs measuring over 70in reached 14.9 million units in 2022, and that figure is expected to grow almost 15 per cent, with 17.1 million huge-screen TVs due to ship in 2023.
While OLEDs continue to occupy the attention of most high-end living rooms – OLED TVs already account for 55 per cent of the European premium market – UST projectors, or Laser TVs as they're commonly known, are now being given significant attention from major players such as LG, Sony, Philips and Samsung.
Question is, can you believe manufacturer claims, and are USTs truly as living-room friendly as they're made out to be? I took the plunge with a Samsung LSP9T and having spent a couple of weeks enjoying the home cinema experience, here's what I've found.
Size is Everything
Let's start with the single most important reason to choose a projector: size. Though TVs have grown larger with each generation, there remains a significant gulf in what's possible at a given price point. Spending up to £3,000 can typically buy you a latest-gen 77in TV, yet while that sounds big, it's a far cry from what's achievable through projection.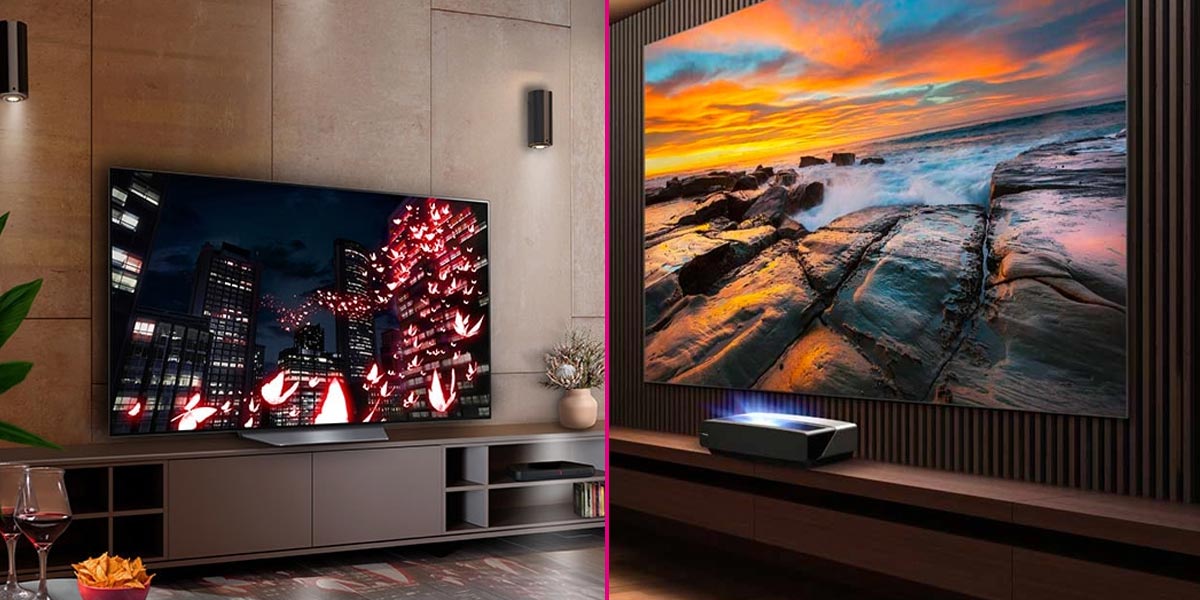 The increase in scope is often misunderstood, simply because the diagonal length used to measure screen size tells only half the story. Some might assume a 100in projector isn't much bigger than a 77in OLED TV. The advertised numbers suggest the projected image is a mere 30 per cent larger, but that couldn't be further from the truth.
A true reflection requires consideration of height and width. The reality is a 77in OLED has a total surface area of 2,533sq/in. Compare that to 4,273sq/in for a 100in projection and you come to appreciate the latter is a whopping 69 per cent larger.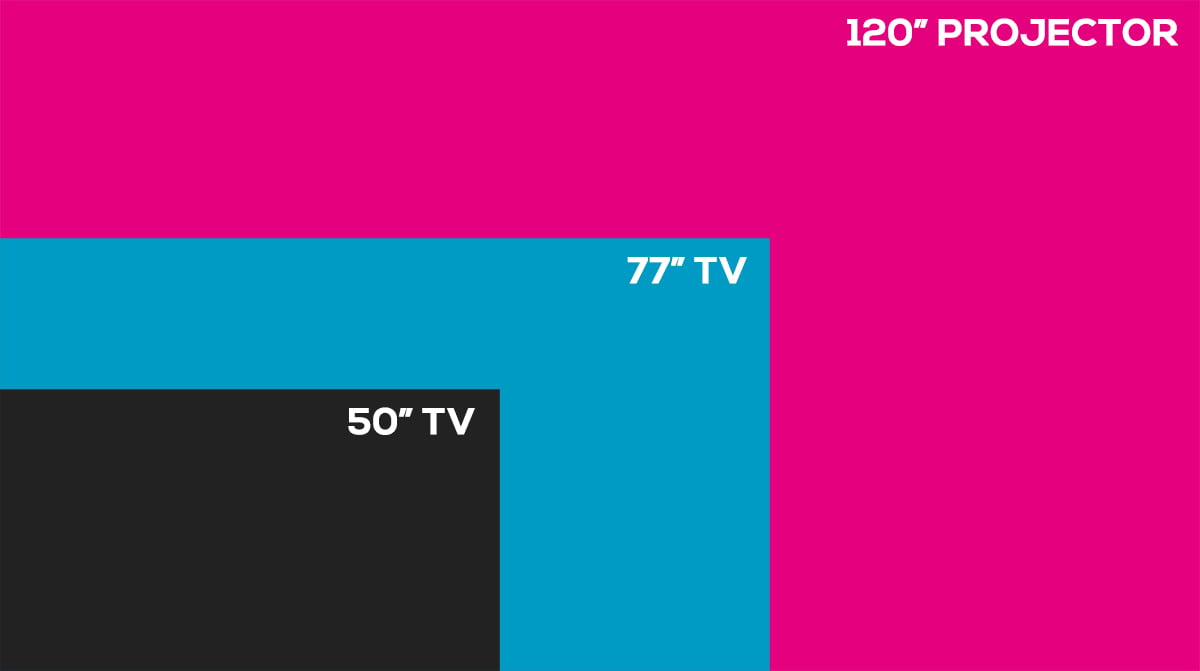 The projected image is 5.76 times larger than the TV; that isn't just an upgrade, it's a whole new ball game.
Heck, in my own setup, going from a 50in TV to a 120in projection results in a staggering 476 per cent increase in screen real estate. The projected image is 5.76 times larger than the TV; that isn't just an upgrade, it's a whole new ball game.
You might assume a premium OLED would satisfy big-screen demand, but even an 83in model is less than half the overall size of a 120in projection (2,944sq/in vs. 6,153sq/in).
One way or another, TVs are always playing catch-up in the race to go big; LG this past week unveiled its first 97in OLED, Epson meanwhile, announced a new line-up of USTs that project up to 150in.
Placement Predicaments
Of the various upsides to a projector, one surprise benefit is not having a large black box in the living room. We've gotten so used to big-screen TVs that we tend to overlook how ugly they appear when switched off; a giant black hole, despite a thin profile and sleek stand, is still a giant black hole.
Removing the Kuro instantly made the room feel brighter, more open and less centred around one item, but there is a caveat in that implementing a UST projector is not as straightforward as manufacturers would have you believe. Promo shots showcasing a giant image projected directly to a wall do not tell the full story, and setup requires more thought than unboxing a traditional TV due to three key factors.
Firstly, UST projectors, unlike traditional long-throw solutions, tend not to have motorised lens with zoom or shift functionality. Want to make the image bigger or smaller? You'll need to move the projector further from or closer to the wall. Need to raise or lower the projected image? Then prepare to physically move the projector up or down. The latter is easier said than done on existing AV furniture, where the top shelf is typically fixed in position.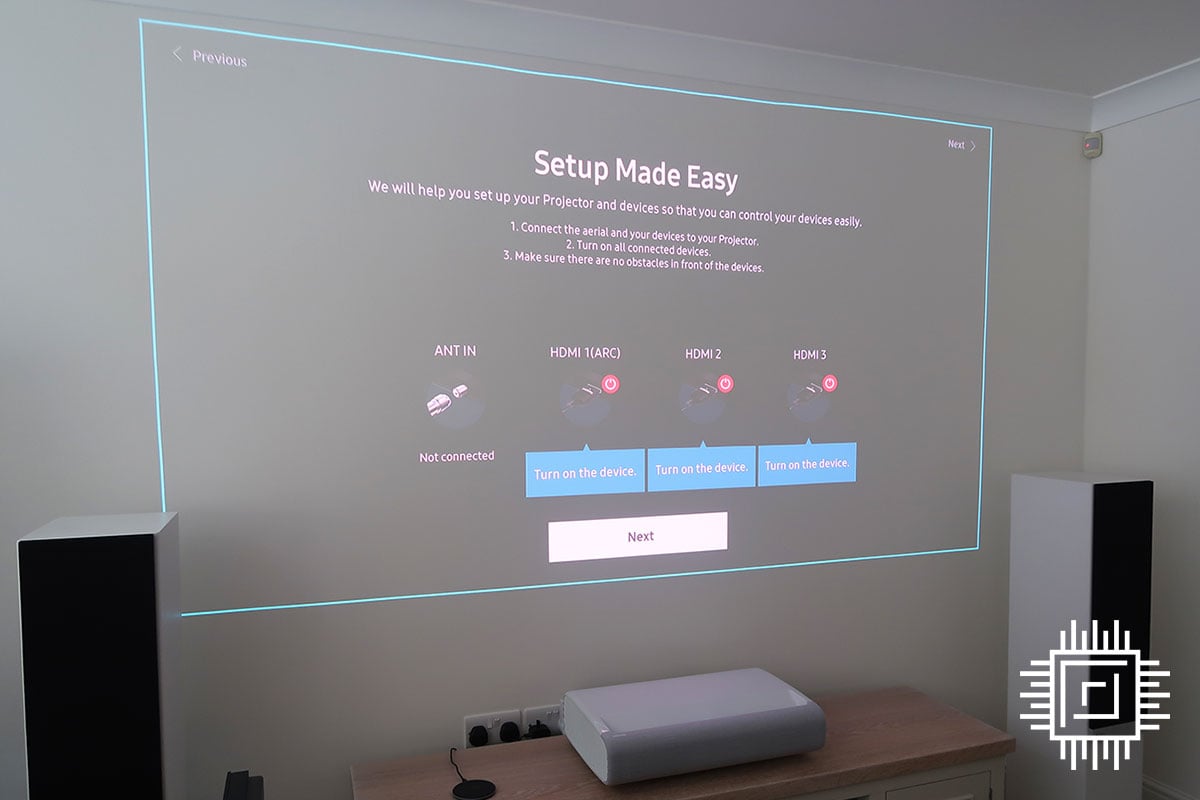 Secondly, the unbelievably short throw ratio of these modern projectors is such that any minor imperfection in the wall, no matter how small, is magnified. I assumed my large, flat, near-white wall would be an ideal canvas, but boy was I wrong. Turns out the surface has an ever-so-slight curvature the projector accentuates, and a tiny dent I never knew existed is highlighted during bright scenes.
Lastly, and most importantly, while USTs are destined for living rooms, there is simply no getting around the fact that projectors of any kind produce an optimal image in darker environments. Our living space, with bifold doors and Velux windows, has plenty of natural light and, worse still, faces south. An image projected directly to the wall is spectacular after sunset, but washed-out during the day to the extent that it is usable but far from ideal.
Should such caveats be considered deal breakers? Perhaps not, as an accompanying screen can go a long way toward alleviating at least a couple of the above predicaments.
You're Going to Want a Screen
Hold on a minute, didn't we say a huge black box occupying an entire wall is an eyesore? We stand by that assessment in favour of motorised screens that are neatly hidden when not in use.
A growing number of options are arriving on the market, but few are priced as competitively as Chinese manufacturer Vividstorm, whose ALR (Ambient Light Rejecting) Tensioned Floor Screen is designed as the ideal companion for a UST setup.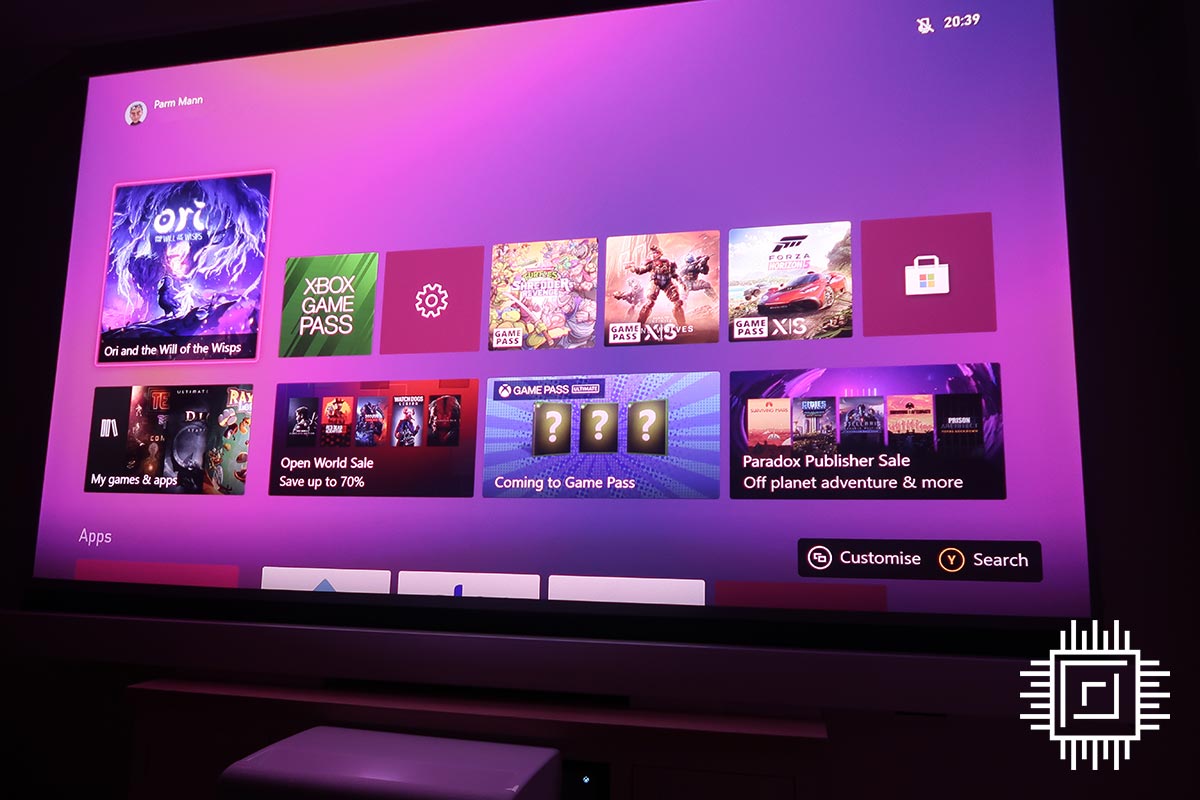 The premise is simple enough. Press a button and a huge canvas rolls up from a mega-wide main body measuring almost 10ft long. Metal arms and tensioning cords provide the required amount of rigidity, and screens designed specifically with USTs have obvious benefits. They'll bypass any imperfections in the wall, screen gain – a measurement of reflectivity – can help optimise contrast and brightness, and chief among the selling points is ALR tech, which for UST projectors borders on must-have territory.
In Vividstorm's case, the screen material consists of a 'sawtooth angular design' designed to reflect light sources from below (i.e., a UST projector) while rejecting ambient light from above. It's a neat trick that works well, but don't expect such a screen to perform miracles. Yes, contrast during daylight hours is improved appreciably so, yet ALR tech won't do much to reject natural light from the sides or below, and you do still long for nighttime to arrive in order to see the image at its best.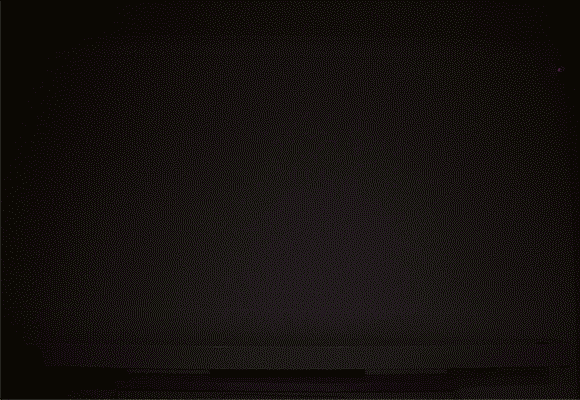 There's also a matter of cost. Vividstorm's Floor Rising ALR Screen will set you back £1,619 for a 100in model, or £1,849 for 120in. Add that to the cost of a decent UST projector and you're getting close to £5k. A significant chunk of change, however there's no denying the wow factor. Come Friday night, grab a tub of popcorn, tune in to the latest episode of The Rings of Power, and you're guaranteed to have a smile on your face as the screen rises into view.
Picture Quality
Anyone struggling to decide on whether to go TV or projector for the next living-room upgrade should keep in mind this general rule: TVs typically win with regards to image quality; projectors win when it comes to size.
"a big TV is still just a big TV. It never quite lives up to the majesty of wall-filling projection."
The decision-making process ought to be based on that balancing act. OLEDs will have significantly deeper blacks and extreme contrast for the very best HDR experience. Modern USTs are brighter than their predecessors, and triple-laser technology does reduce the rainbow effect, but blacks will never be as deep. On a purely picture-quality basis, an OLED is likely to come out on top.
Don't rush out to buy a 77in TV, mind. As a former plasma romantic, I'm surprised how sheer scale can sway one's opinion. The feeling of immersion you get from a 120in projection is so strong that I'm happily willing to forego inky blacks. Furthermore, projected images have unique qualities that set them apart.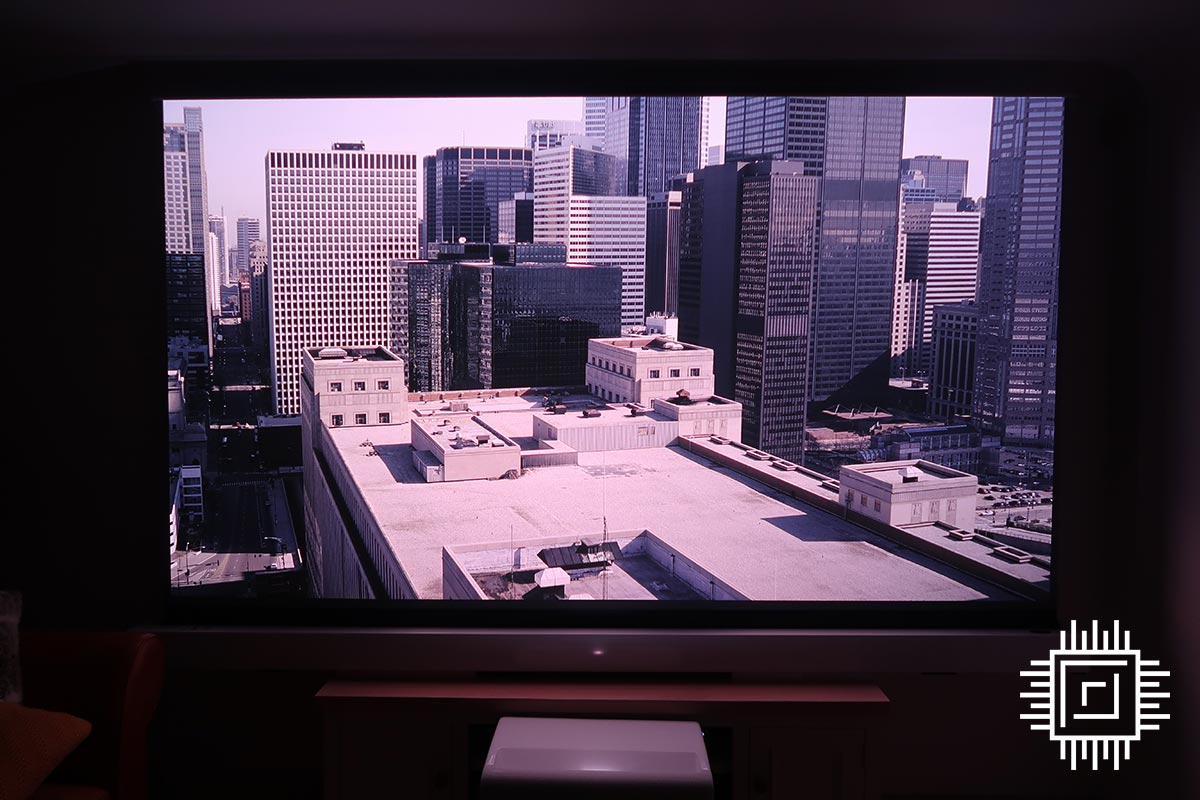 In my experience, a projector appears more natural in a way that a TV cannot. A reflected image is easier on the eyes, the letterbox effect of widescreen movies is less jarring, and motion looks far superior. It is a uniquely cinema-esque experience, and while TVs chase extreme contrast and outstanding sharpness, they suffer unwanted reflections and inherit a harshness that feels artificial by comparison.
Reiterating an earlier point, TVs are by no means a bad choice, and the latest OLEDs are a wonder to behold, yet it's hard to escape the feeling that a big TV is still just a big TV. It never quite lives up to the majesty of wall-filling projection.
What They Don't Tell You
I've rediscovered a love for movies these past few weeks and have thoroughly enjoyed revisiting some all-time favourites on the big screen. The Matrix has never felt so real, Robocop's ED-209 looks scarier than ever, Interstellar's docking scene had us on the edge of our seats, and 4K-remastered classics such as The Godfather look sublime through 120in UST projection.
The home-cinema experience is outstanding as far as TV shows and movies are concerned, yet USTs aren't without fault, and if my experience has taught me anything, it's that on-the-box claims are a stretch at best. Samsung, like many UST manufacturers, describes its LSP9T as a 'sleek and compact' projector whose 'elegantly minimal' design 'blends superbly with your home.' There's no shortage of hyperbole, including a promise that 'a white wall is all the set-up you need, no matter the time of day.'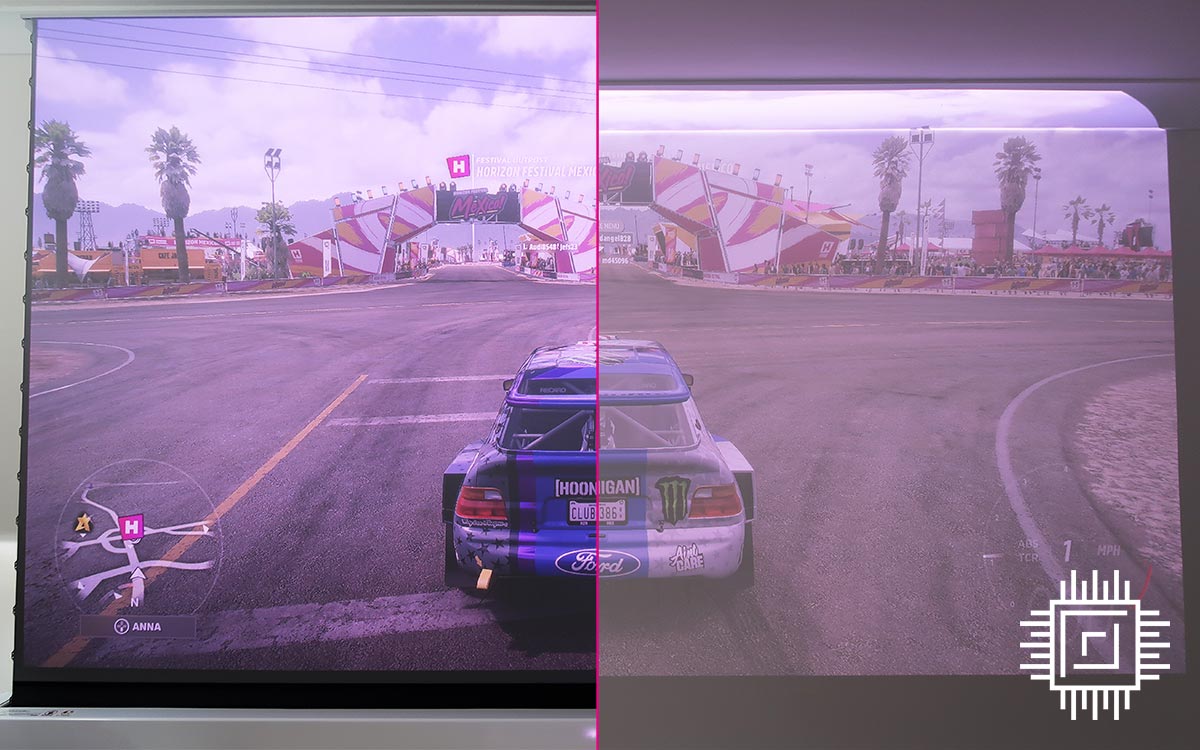 In practise, there's more to it than that. An ALR screen, in my estimation, is an essential part of the equation, and even then you're likely to face fun and games when it comes to setup and alignment. For the life of me, after all these weeks I'm still struggling to get all four corners of the projection perfectly aligned with the 120in screen. My OCD admittedly doesn't help – I'll lose sleep if I'm a centimetre or two out, and I won't be using digital keystone correction as a remedy at the expense of resolution, thank you very much.
There are other potential niggles to be aware of, too. Latency on UST projectors is typically higher than TVs, yet while gaming speed is sacrificed, sheer size bodes well for split-screen scenarios. Projectors may also feature active cooling that is audible during use. The fans in Samsung's LSP9T are thankfully among the quietest I've heard on any high-end projector, and though the steady hum was clearly evident during the initial few weeks, I've now gotten to the stage where I barely notice it.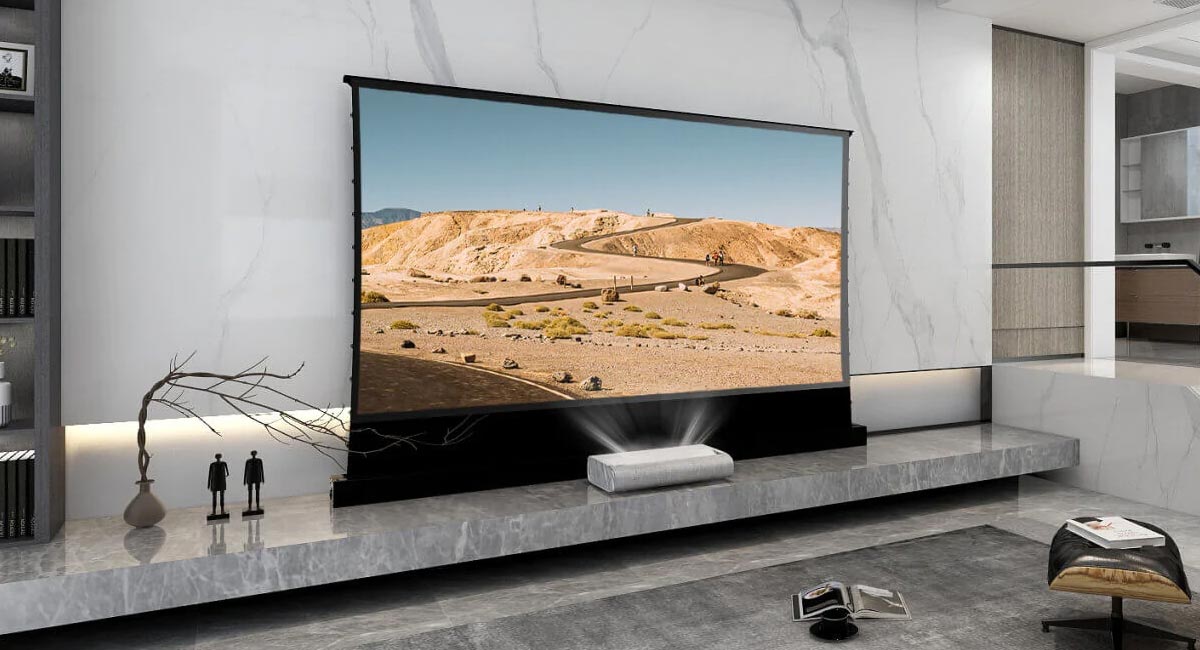 Lastly, those adamant a motorised screen and UST projector combination is indeed the way to go will find placement to be tricky. Vividstorm's bottom black border – the blank area between screen and housing – measures 350mm, meaning you'll struggle to get away with the screen on the floor unless the projector is extremely low. Consider either a wall mount, or a low-profile cabinet wide enough not to look weird with a near-10ft beam balancing on top.
UST projectors ultimately succeed in bringing a big-screen cinema experience to our living rooms but be prepared to go the extra yard in order to maximise the experience. I'm off to Ikea to start planning my own custom cabinet. Wish me luck.
 Article reprinted from:https://www.club386.com/ust-projectors-vs-oled-why-your-next-big-upgrade-could-be-a-laser-tv/
2 注释